The National Health Commission Office (NHCO) Thailand held a webinar entitled "Health in All Policies in Thailand: Institutionalization and Politicization" on 13 January 2022.
The full description is presented below.
To access the YouTube video, click here.
To read the report, click here.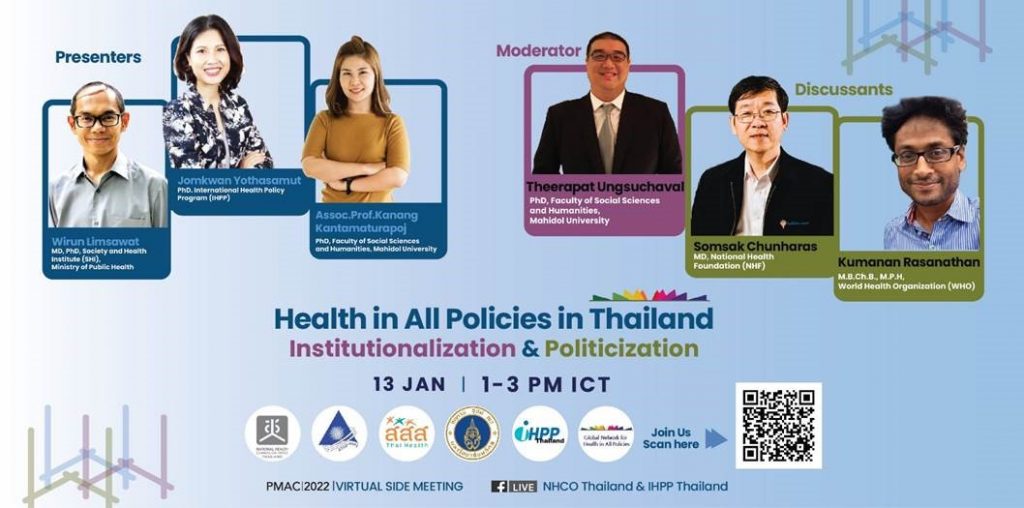 Thailand has been a part of global community, playing parts in the development milestones of all key concepts towards Health in All Policies [HiAP] approach. More specifically, in the context of Thailand, HiAP movement has been contributed to the country's health reform. HiAP approach has been institutionalized in the Thai context through the introduction and implementation of the National Health Act B.E. 2550 (2007) in 2007. The output of this National Health Act creates the National Health Commission Office which is mandated to create an enabling ecosystem for HiAP. From this starting point, the mechanisms have been established to mobilize multisectoral actions from all sectors, to create a systematic reform of the national health system. Furthermore, the Act encourages processes for the development of healthy public policies and strategies with participation from all sectors.
Due to the fifteen years of implementing the National Health Act, lessons learned from the implementation of Thailand National Health Act where Health in All Policies (HiAP) concept has been applied can be beneficial for other partners planning to adopt such an approach to their settings.
Objective
To review key lessons of HiAP practices and share experiences concerning HiAP implementation in Thailand
Host Organizations
• International Health Policy Program (IHPP)
• Faculty of Social Sciences and Humanities, Mahidol University
• National Health Commission Office (NHCO)
• Thai Health Promotion Foundation (ThaiHealth)
• Health System Research Institute (HSRI)
• Global Network for Health in All Policies (GNHiAP)