Webinar – Four Pillars of "Health in All Policies" for Sustainable Multisectoral Collaboration on Social Determinants of Health, Equity and Well-being

When: May 12, 2022
What time:
6 a.m. to 7:30 a.m. Montréal-Eastern Daylight Time
12:00 p.m. to 13:30 p.m. Geneva – Central European Time

Recording
PowerPoint Presentation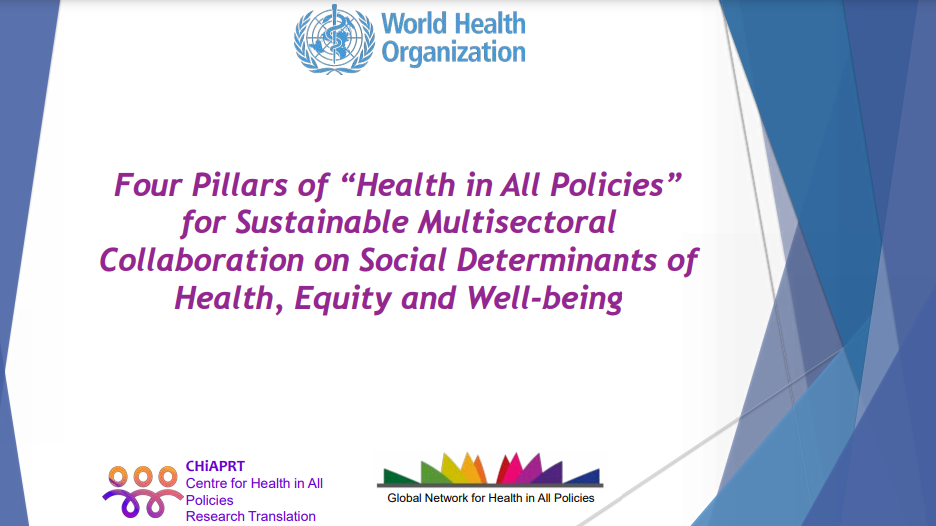 This webinar was organized by the World Health Organization, the Global Network for Health in All Policies, and the Centre for Health in All Policies Research Translation.
Establishing and maintaining collaborations with partners across policy sectors are key to successfully act on the social determinants of health and improve health, well-being and equity. During this webinar, participants learned the main themes of a forthcoming WHO guidance document titled Sustainable Multisectoral Collaboration for Addressing the Social Determinants of Health, Equity and Well-being. This WHO publication, to be launched later in 2022 will provide guidance for implementing and sustaining collaboration across public policy sectors to address the underlying social, economic and environmental determinants of health affecting health and health equity.
To start off, the webinar provided an overview of the forthcoming guidance and its thematic 4 pillars for multisectoral collaboration. A round table discussion followed where panellists discussed the 4 pillars drawing on their experience of testing the framework and applying HiAP in practice.
Webinar objectives
Learn about the principles underpinning the development of the forthcoming WHO Sustainable Multisectoral Collaboration guidance document and its usefulness to address the social determinants of health, equity and well-being
Discuss the four pillars for sustainable multisectoral collaboration
Share experiences across stakeholders involved in HiAP implementation
Proposed Program
5 min

Welcome and Introductions

Dr. Horacio Arruda
Assistant Deputy Minister for the Québec Ministry of Health and Social Services

Kumanan Rasanathan
Unit Head, Equity and Health, Social Determinants of Health
World Health Organization
25 min
Outline of the new guidance for sustainable multisectoral collaboration (MSA)

Nicole Valentine
Program Lead and Technical Officer, World Health Organization
Carmel Williams
Director, Centre for HiAP Research Translation at Health Translation
50 min

Round table discussion on the four pillars of Health in All Policies for sustainable multisectoral collaboration

Facilitated by Nanoot Mathurapote for the Global Network for Health in All Policies, Head of Global Collaboration Unit, National Health Commission Office, Thailand

Slovenia: Peter Beznec
Center for Health and Development Muska Sorbota in Slovenia, Director of the WHO Collaborating Centre for Cross Sectoral Approaches to Health and Development

Tanzania: Dr. Catherine Joachim
Head of Health Sector Resource Secretariat and a Coordinator for National Health System Strengthening (HSS) Agenda in the Ministry of Health in Tanzania

Québec: Dr. Horacio Arruda
Assistant Deputy Minister for the Québec Ministry of Health and Social Services

Nepal: Dr. Sangeeta Mishra
Chief of Health Coordination Division, Ministry of Health and Population, Nepal

5 min
Next Steps for the guidance document and closing
Nicole Valentine